WWSF Prize for Women's Creativity in Rural Life
Presentation of the 10 Laureates in 2020
Introduction
As you may know, the WWSF "Prize for Women's Creativity in Rural Life" (created in 1994 at the Beijing 4th World Conference on Women), annually awards creative and courageous rural women leaders and groups that help to advance and improve the quality of life in rural communities. To date, 462 prizes have been awarded in over 140 countries to selected candidates. In some cases, the WWSF prize enhances the status of unknown, active, creative rural women leaders and some of the prizewinners attain national recognition and sometimes move into positions of decision-making at the local/or national level.[/su_column]
The award (US$ 1000 per laureate) represents our solidarity contribution for efforts and obstacles to overcome and is not meant to be a project fund, although in many cases the prize money is re-invested in the laureates' programs. To achieve the Sustainable Development Goals (SDGs) by 2030, rural women are key in delivering results with courage and compassion. They need our solidarity support as they face many challenges in today's world.
WWSF expresses gratitude for all the nominations received in 2020 from which we selected the 10 finalists.
We also express our gratitude for the sponsors who make our empowerment programs financially possible;  and for the staff, consultants, and university interns who serve in our secretariat.
Prize documents for your nominations
Selected Messages from Prizewinners
Prize jury members
Link to poster "International Day of Rural Women – 15 Oct."
Link to the 17 Days of Activism Kit for Rural Women leaders and their communities
---
Presentation of the 10 Laureates in 2020
CAMEROON – BOUBA Aeisatu (30 years old)
WHEN A RUNAWAY CHILD BECOMES AN ACCLAIMED AND RESPECTED LEADER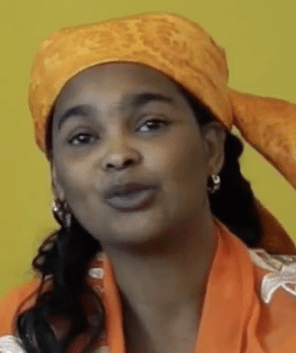 Bouba Aeisatu has had a both rare and challenging career. She is a member of the native Mbororo group, an indigenous pastoralist minority from the predominantly English-speaking North-West region of Cameroon. When she reached 12 years, her family wanted to withdraw her from school so as to marry a man much older than her. She resisted, escaped, and later had to face a great deal of marginalization and discrimination from her community.
Despite constant family pressures, she managed to obtain a university degree. Many young women in her community (as in most parts of the continent) are forced into early marriage with all the ensuing health, social, psychological, and other trauma, not to mention great gender violence in couples. So she created the "Forum des Femmes Autochtones du Cameroun" (FFAC – link to the website: https://ffacameroon.org/) to help these women – the vast majority of whom stem from rural areas – to free themselves from the iron-fisted grip of patriarchal customs and also to educate them in basic environmental issues, help the women improve their agricultural skills for food security and finally to train women to take leadership positions in the decision-making bodies in the administrative and political areas. So far over 1200 indigenous pastoralist girls have been rescued from forced marriages and now continue their education. And in the highly traditional Adamania region, over 6000 indigenous rural women have been sensitized on the importance of participating in the electoral process, and 15 of their 20 candidates were elected on local councils.
A well-earned prize!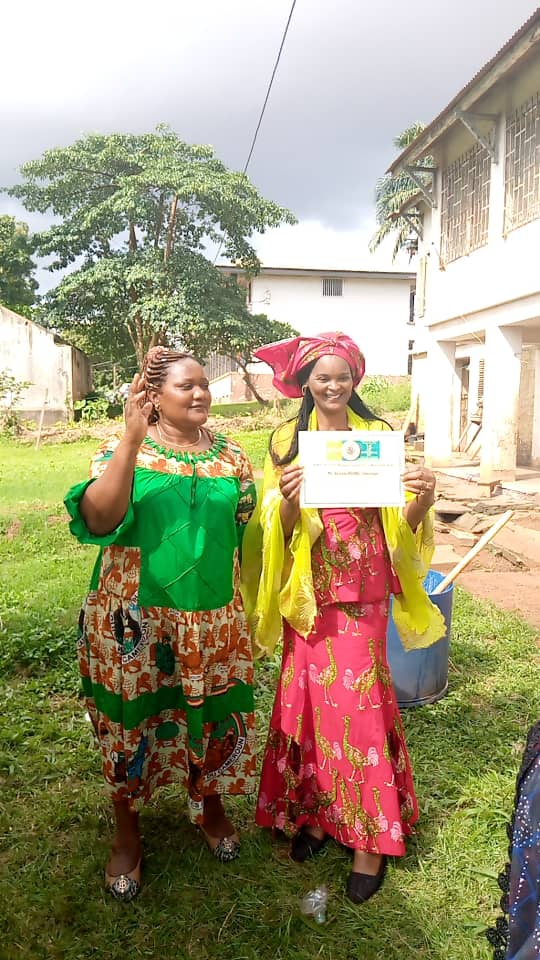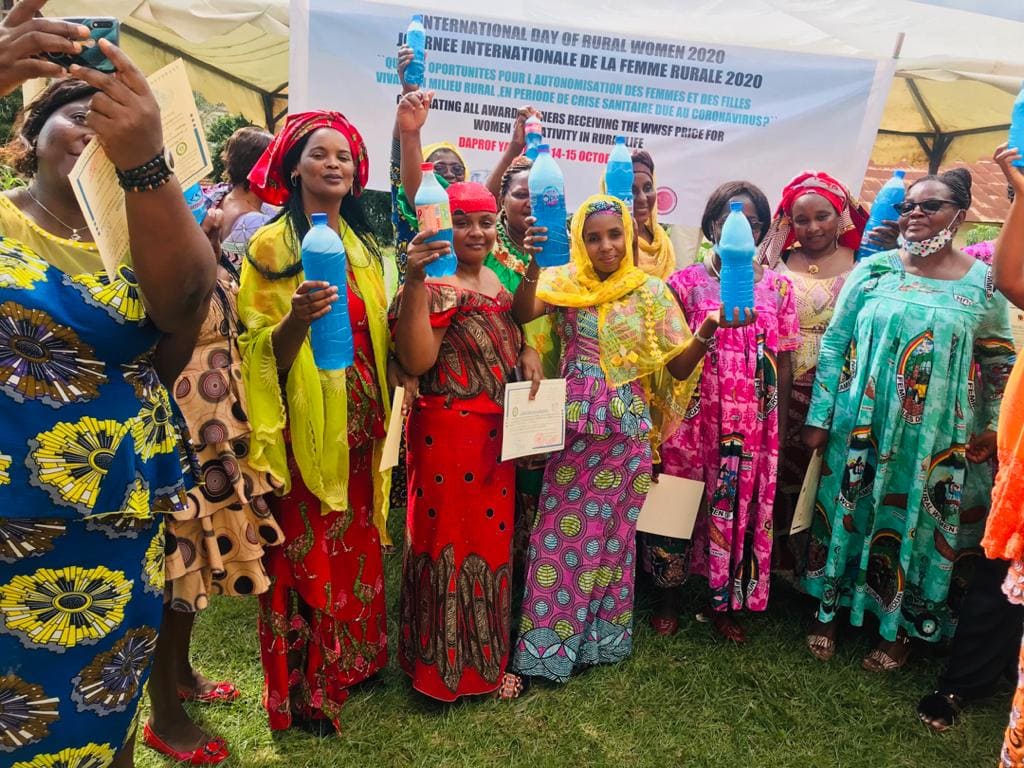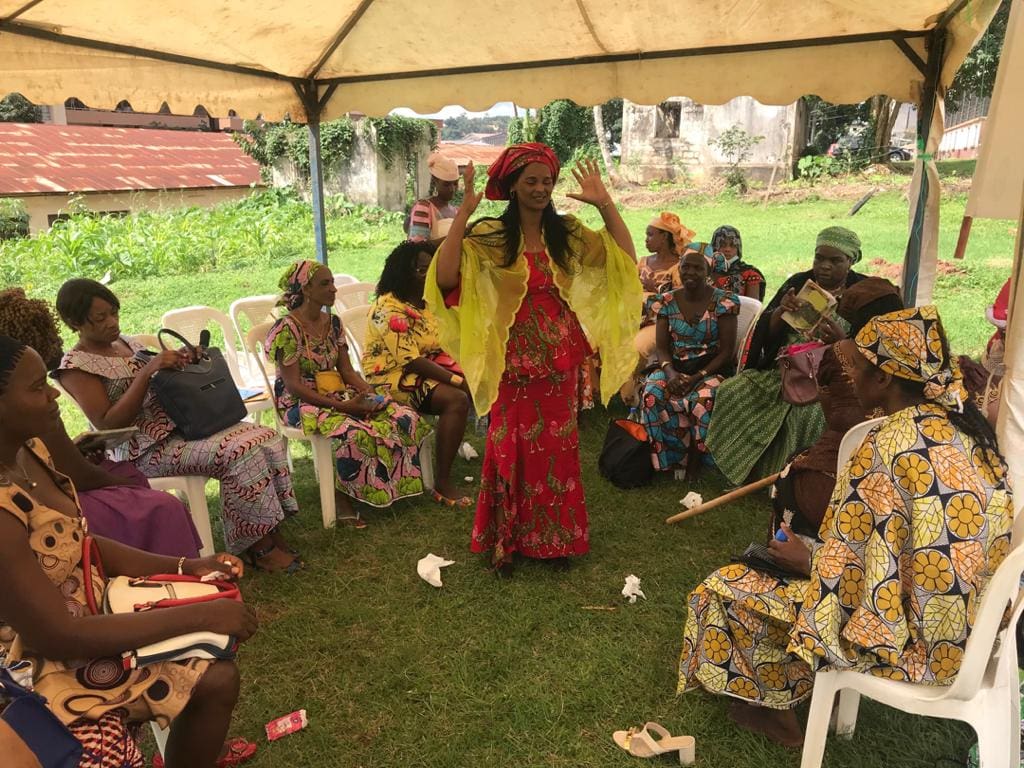 Images of her Award Ceremony on 15 October 2020 in Cameroon.
Her work contributes to achieving the UN Sustainable Development Goals-Agenda 2030

---
NIGERIA  – Dr. AHMED-AMSHI Mairo (60 years old)
A POWERFUL ADVOCATE OF   WOMEN'S RIGHTS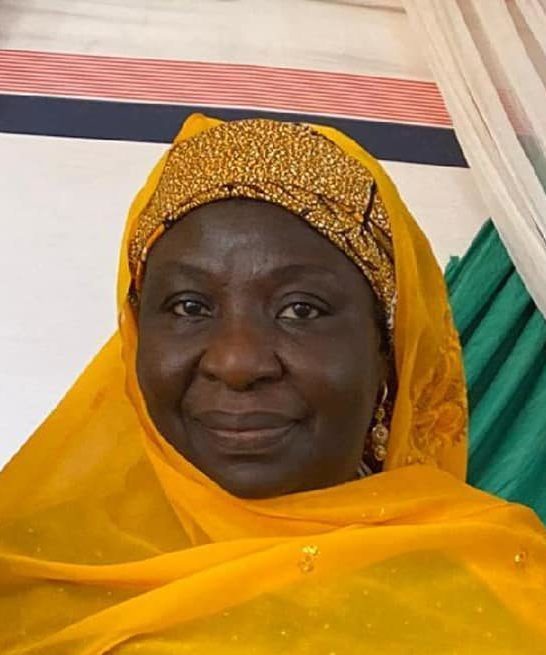 Dr. Ahmed-Amshi is the Commissioner for Agriculture of Yobe State in N. Nigeria. She has a Ph.D. in plant physiology and production. She has been nominated due to her extensive contribution via various gender-inclusive actions. As part of her activities, she established the Yobe State Youth and Women's Agricultural Employment Program. She has played a special role to get the central importance of Fulani woman pastoralists in the field of nutrition and health accepted. All across the Sahel region, the Fulanis enable small children to have access to the vital milk products necessary for their growth.
In a male-dominated culture and tradition, implemented under the directives of the Islamic religious doctrine, Dr. Mairo needed to be truly creative to enable women in rural areas to progress in terms of their rights. She has also played a key role in enabling women and youth to access soft loans. In her action, she is guided by the UN SDGoals 1 to 5 and is passionate about achieving results by 2030. She is also a role model for the rural women and girls of N-E Nigeria where girl-child education is still being threatened by patriarchal attitudes inherited from the past.
Link to her Facebook profile: https://www.facebook.com/Hon.Dr.mairoahmadamshi/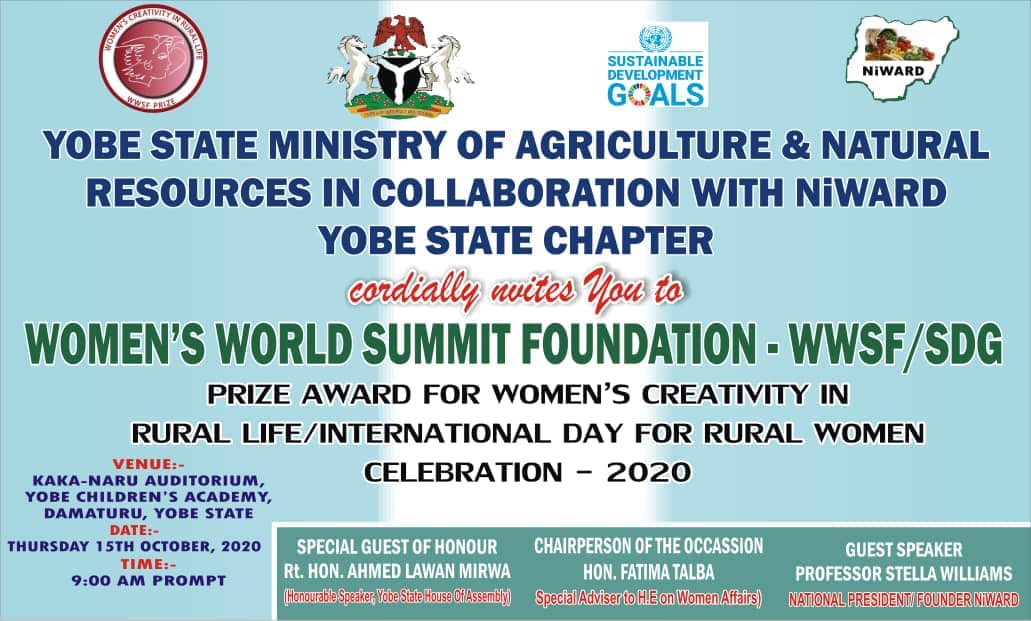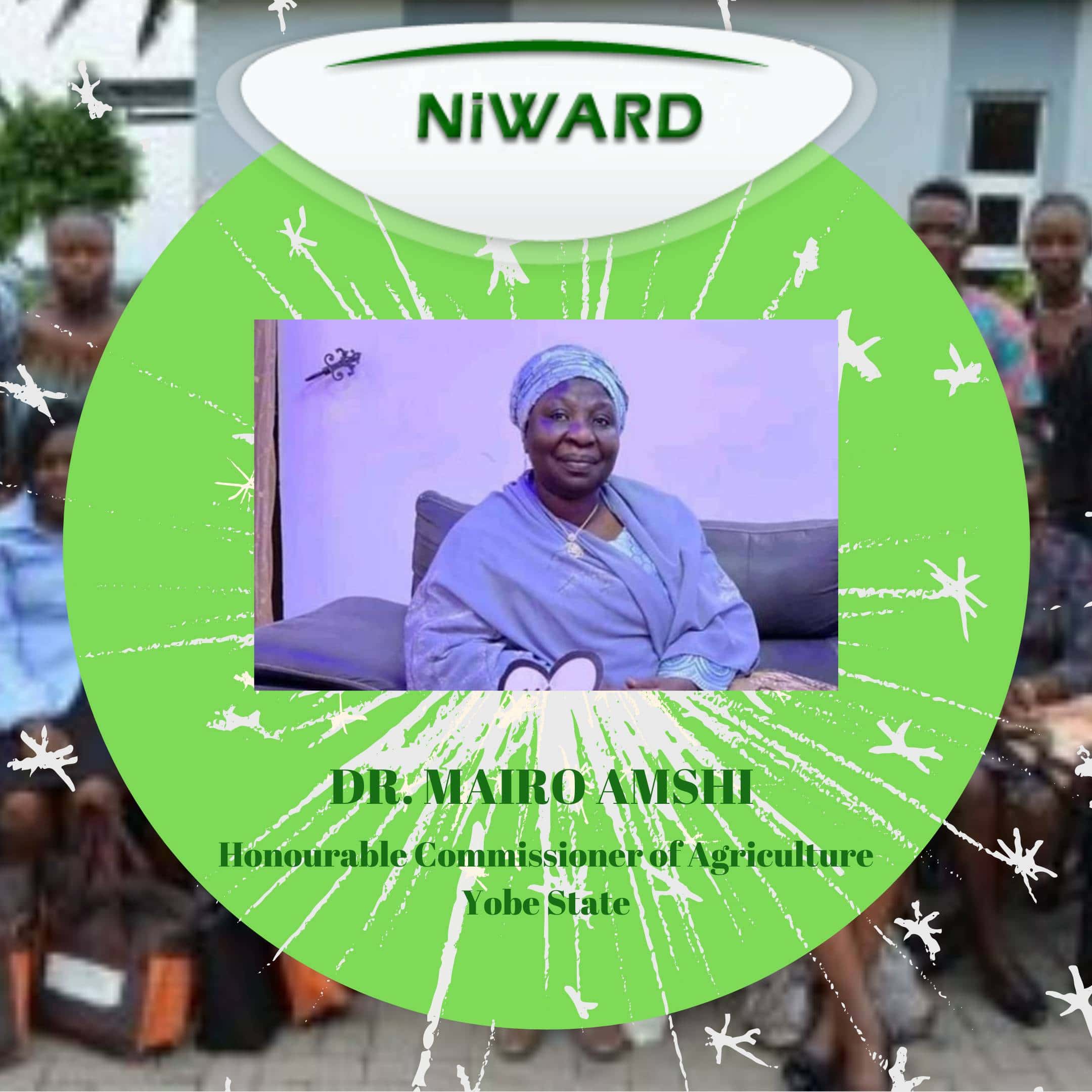 Her work contributes to achieving the UN Sustainable Development Goals-Agenda 2030

---
MEXICO – ARRIOLA SANCHEZ Jeannette Maitee (43 years old)
A RARE CREATIVITY IN ENABLING THE MOST REJECTED TO BECOME RESPECTED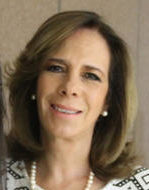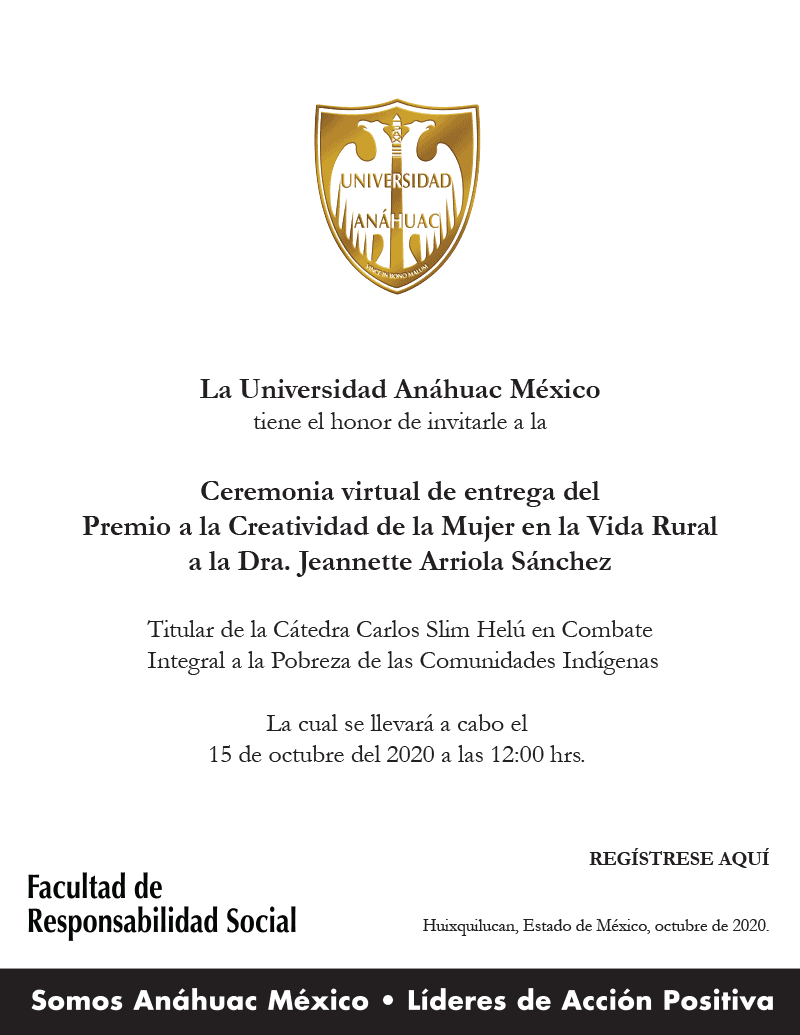 This outstanding candidate has devoted 22 years in helping the poorest and most neglected of her country, the indigenous communities, regain a sense of the
ir dignity and their worth. With tireless labor, lasting passion, and above all love, Dr. Jeannette Arriola has played an absolutely unique role in her country. She has proved to the world that eradicating extreme poverty does not have to be costly if one manages to gain the full trust of the groups concerned, on the condition of manifesting the deepest respect (rather than the usual suspicion) for the indigenous cultural norms and practices.
Traditionally, these rural communities suffered from a historical debt were living in conditions of high and often extreme marginalization, with great levels of poverty and an almost complete lack of opportunities. With her wise leadership, Dr. Arriola has achieved close cooperation between public and private actors from different sectors of Mexican society. Her unique "Comprehensive Model for Sustainable Development" has enabled indigenous communities to better manage their own development based on food security strategies, provision of drinking water, environmental care initiatives, gender equality and mainstreaming, citizen and civic participation, community empowerment, and the generation of sustainable employment opportunities in the indigenous sector. Her work has finally enabled society at large to better appreciate the ancestral and spiritual knowledge of indigenous peoples of Latin America which form the basis of their unique cultural identity. Finally, at the academic level, professor Jeannette Arriola has been responsible for giving a vibrant and relevant 
space to the indigenous communities of Mexico. She organized six Annual National Meetings of indigenous groups at the university level. These meetings have been a watershed at the national level where actors of all kinds have had the privilege of witnessing and learning more of the unique customs and traditions of those who are after all the original inhabitants of Mexico.
Link to her LinkedIn profile: https://www.linkedin.com/in/jeannette-arriola-s%C3%A1nchez-365a90196/?originalSubdomain=mx
Her work contributes to achieving the UN Sustainable Development Goals-Agenda 2030

---
MEXICO – MARVAN Alicia (30 years old)
CONNECTING WITH HER ROOTS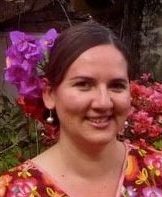 Alicia is a leader. Her career as a socially engaged multidisciplinary artist, educator, and cultural manager has taken her to academic and cultural institutions across the US, Europe, and Mexico. Yet she is equally at home in rural Michoacán, Mexico, where over years of hard work, she has built a project that connects her artistic work with her roots. The Guapamacátaro Center for Art and Ecology is a community-oriented residency program that brings together artists and scientists with the local population of Maravatío, Michoacán, to foster collaborative and creative approaches to sustainable development.
The project was born out of Alicia's deep desire to do something to help address issues of social inequality and ecological degradation in her native Mexico. She convinced her family to cede control of a crumbling family estate, or hacienda, that had once been an important agricultural producer in the region. Over the years she has painstakingly rehabilitated the property and built the trust of the local community while transforming the site into one of the most innovative ecology-focused creative residencies.  Over the last 14 years she has brought close to 200 artists, scientists, community organizers, and other creative professionals to engage with the landscape and community of Maravatío.
Each year up to twenty residents representing a broad range of artistic and academic disciplines, cultures, and backgrounds participate in three-week residencies at Guapamacátaro. Each participant commits to organizing at least one program with local elementary and secondary school pupils and is asked to organize at least one presentation or workshop for the community.  These projects have focused on key social ecology issues, such as water, land, and craft.
One of the innovative projects that Alicia and the visiting artist, Kaitlin Bryson, worked on with the adult community was to create a series of Mycelial Bio-remediation "pillows" filled with oyster mushroom cultivations (known for their detoxifying qualities) that were placed as filters between an unregulated communal septic tank and the water stream. The community self-organized shortly after to build a better wastewater system.
Link to her website: https://aliciamarvan.com/
Her work contributes to achieving the UN Sustainable Development Goals-Agenda 2030

---
This year, WWSF selected among the ten candidates, three laureates from Ekta Parishad (India), nominated by IGINP Cesci – the International Gandhian Institute of Non-violence, India. The three laureates participated in the one-year Jai Jagat march from India to Geneva starting in 2019. Unfortunately, due to the COVID-19 pandemic, the march was interrupted in Armenia and postponed to continuing in 2021 so as to terminate the march in Geneva as

a wake-up call to respond to the world's deepening economic, social and environmental crises. The campaign is an urgent appeal for people to transform and achieve one planet for all people.

«Jai Jagat is a vision of bringing people together to promote justice and ethics as a way to realize peace. This vision draws from Gandhi's use of nonviolence in the Freedom struggle in India against the oppressive colonial forces. Jai Jagat is a campaign that enacts this vision at a global level through people's engagement in multi-year events and actions. Although the Jai Jagat began in India in 2007 with a Janadesh march of 25,000 landless people, nonviolent action has since touched other locations in countering oppressive policies, laws, and governments. Our World Can Be Different If We're Not Indifferent.»
---
INDIA  –  UIKEY Saraswati (43 years old)
WHEN A POOR TRIBAL WOMAN BECOMES A POWERFUL AND RESPECTED ROLE MODEL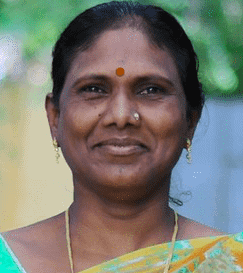 The tribal populations of India are among the most despised inhabitants of the country. Saraswati comes from such a tribe, the Gond. She comes from a very poor family of laborers working in the land. At 14 years old, she is already a mother, living the challenging life of a day laborer. But her contact with Ekta Parishad, an organization of landless farmers, transformed her existence and at 18 she starts a new life. She becomes active militant fighting for the right of access of her people to land, water, and forest rights, not without having had to overcome major prejudices where she lives. But thanks to the practice of non-violent communication and great inner strength, she overcame all obstacles and was included in the 50 marchers of the Jai Jagat organization which in 2019-2020 undertook to walk the 11'000 km. separating New Delhi from Geneva.
Link to https://jaijagat2020.eu/ & https://www.ektaparishadindia.org/
Media coverage:
Their work contributes to achieving UN Sustainable Development Goals-Agenda 2030

---
INDIA – SHAH Shabnam (33 years old) 
INNER STRENGTH AND STRONG DETERMINATION WIN THE DAY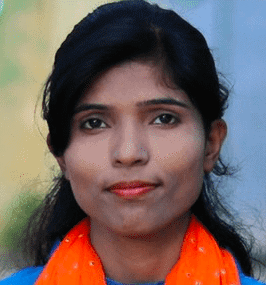 Since the age of 18, Shabnam has been striving with great tenacity for the land rights of tribal people, among the most discriminated populations of India. Being a young woman who was also a member of a minority religion, she needed to and has manifested great strength, talent, and determination. She joined an organization fighting for the rights of the dispossessed, Ekta Parishad, at the outset of her struggles for land rights (she was still in high school!). Her work for the most dispossessed of all extends to over 100 villages and she has succeeded in getting land rights for 1470 families. She is gifted with a natural ability to deliver strong speeches. Her work has been mainly for one of the most primitive and exploited tribal people of India, the Saharya tribe. Alcohol was wreaking havoc among these people and she has managed to reduce drastically the all-pervading threat alcohol posed to these tribal populations. In June 2019, she was selected to be one of the 50 Jai Jagat marchers for this organization's New Delhi-Geneva march on foot. Her commitment to her family and her work is such that she chose to stay single, a quasi-heroic decision in the Indian cultural context.
Link to https://jaijagat2020.eu/ & https://www.ektaparishadindia.org/
Media coverage:
Their work contributes to achieving UN Sustainable Development Goals-Agenda 2030

---
INDIA – KUJUR Nirmla (37 years old)
A CHAMPION FOR THE POOREST OF THE POOR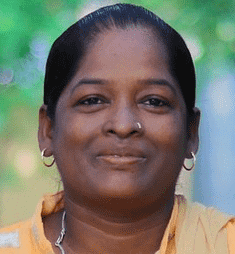 Nirmla Kujur is an inspiring, self-made, independent woman activist who took part in the Jai Jagat 11'000 km peace march on foot from New Delhi to Geneva (which was interrupted due to COVID-19 in Erevan, Armenia). She has committed herself with both rigor and skill to defend the forest, water, and land rights of the poorest of the poor. These three areas constitute the very basis of the survival of farmers. Take one of the three away, especially land or water, and the result will usually be fatal.
Nirmala was born close to the Indian state of Chattisgarh (center East of the country) and is from the Uraon tribe, the oldest of 6 siblings in a family living off the land (farming). At the end of her high school years, she chose to work on a program of self-delivery of babies in remote areas. Very early she chose to abandon her marital home and husband owing to their confining and patriarchal values. A person with both cheerful and bold disposition, she emerged over the years as a true grassroots leader. Just in recent years, she helped over 400 families get legal entitlement to land and has filed an additional 1000 requests (which now await the response of the authorities), all since working with Ekta Parishad, a grassroots movement active with Adivasis (tribal groups considered as the original inhabitants of the country).
Link to https://jaijagat2020.eu/ & https://www.ektaparishadindia.org/
Media coverage:
Her work contributes to achieving UN Sustainable Development Goals-Agenda 2030

---
INDIA – PAWAR Vijaya Shriram (34 years old)
TRANSFORMING SUGARCANE WORKERS INTO ARTISTS OF BEAUTY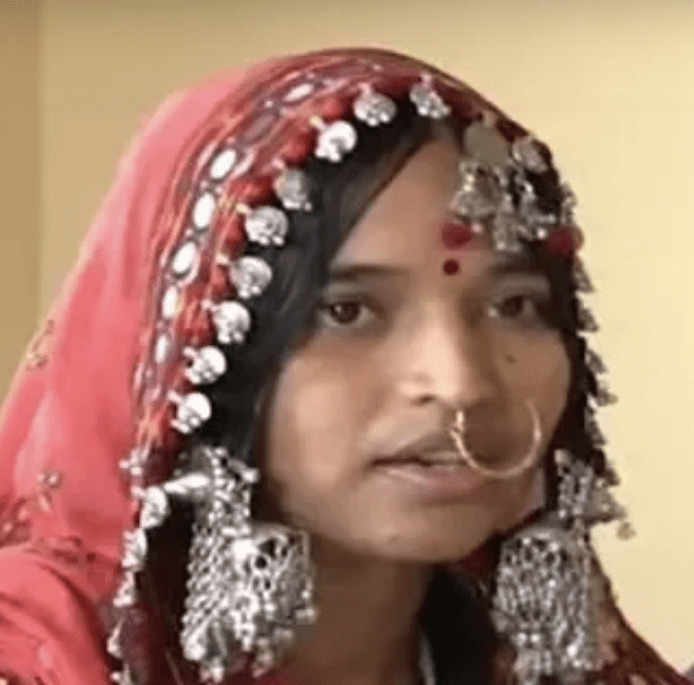 Vijaya belongs to the indigenous nomadic Banjara community of the Beed district in Maharashtra state. She walked 6 km daily to reach her school which she had to stop when she got married at age 16. However, after her marriage, she decided to resume her studies in a local college, the first girl of her community to ever undertake such studies. She had a great attachment to the splendid Banjara traditional embroidery, a craft handed down from mother to daughter. However, most women in her tribe had to work as sugarcane cutters 3-4 months in the year, an extremely challenging activity in the hot sun. So Vijaya had the idea of opening up commercial outlets for the beautiful traditional tribal handicrafts and for the first time ever, the women started earning. It was the dawn of a new era for them.
Vijaya started taking part in exhibitions at the local, state, and national levels. She discovered the possibility of producing their handicrafts on a really large scale with modern machines. However, such a step would ruin the local artisans and kill a unique traditional cultural and local art and put the income into non-local hands. But at the same time, even the younger local Banjara women were turning away from this local craft due to its heavy production costs. So Vijaya went through formal technical training in embroidery and related techniques and decided to introduce innovative contemporary designs. With a few like-minded colleagues, in the year 2000, she started a movement for the revival of traditional Banjara arts and crafts. And after nearly 20 years of struggles, the first fruits are coming forth. She is now working in close to a hundred hamlets with almost 1000 women artisans who can make much better income creating beauty than what they earn in the back-breaking work of sugar-cane cutters.
Video link: https://www.youtube.com/watch?v=2ChT1aT47RM
Her work contributes to achieving UN Sustainable Development Goals-Agenda 2030

---
INDIA – KHAPERDE Subhadra (52 years old)
"WHAT IS DIFFICULT, I'LL DO IMMEDIATELY, THE IMPOSSIBLE WILL TAKE A LITTLE LONGER"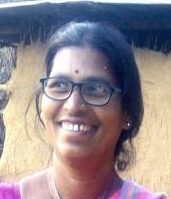 Certainly, very few women activists in India have managed to transcend in their personal lives the deep-rooted caste, class, and gender inequalities that Subhadra had to face. Born in the lowest cast in the hierarchical cast structure that has dominated the subcontinent for eons, the hurdles Subhadra had to face are unfathomable, as Dalits continue to face deplorable prejudices in practically all walks of life in India. In addition to this entrenched caste-based discrimination, she had to struggle against the deep-rooted patriarchal inequity practiced within Indian society at large. Finally, coming from a marginalized family from rural areas, she had in addition to face the class-based barriers so solidly implanted at all levels of the social structure. However, thanks to her unbending determination and grit, an unshakeable, clear intention and her deep compassion for the most downtrodden, Subhadra overcame these huge challenges and also many others to become an amazingly innovative, productive, and creative community leader. In her fight for the rights of the most oppressed, this social worker was even imprisoned when she dared face administrative and police corruption-fighting alcohol bootlegging. Among her many achievements, one can mention: 
a)   Her activity with the well-known Ekta-Parishad rural mass movement working for the rights of tribal people over natural resources and the establishment of their land rights in western Madhya Pradesh.
b)   Her fight for women's reproductive health rights which for quite a while was funded by crowdfunding. She went far beyond the State's narrow vision of simple family planning to address the numerous gynecological problems which haunted so many women.
c)   During this period, she also spearheaded a women's movement against alcoholism and illegal bootlegging of alcohol at considerable danger to her life and for which she was illegally imprisoned with 17 other Adivasi women.
d)   Other areas of activity include mobilizing Adivasis for soil and water conservation and improvement of the food women consume. This led her to oppose high chemical fertilizer and pesticide-based intensive farming and work to revive traditional sustainable agricultural practices with the use of indigenous seeds so as to empower women to become controlling partners in farming operations.
e)   In addition to all these activities and others we have not even mentioned, Subhadra continues to promote the education of Adivasi girls as she believes that without this one cannot fight patriarchy.
Link to her website: https://subhadrakhaperde.in/about/ and video of a gathering she organized on 15 October International Day of Rural Women 2020 https://www.youtube.com/watch?v=i8FOnywzvVc
Media coverage:
Message from the laureate: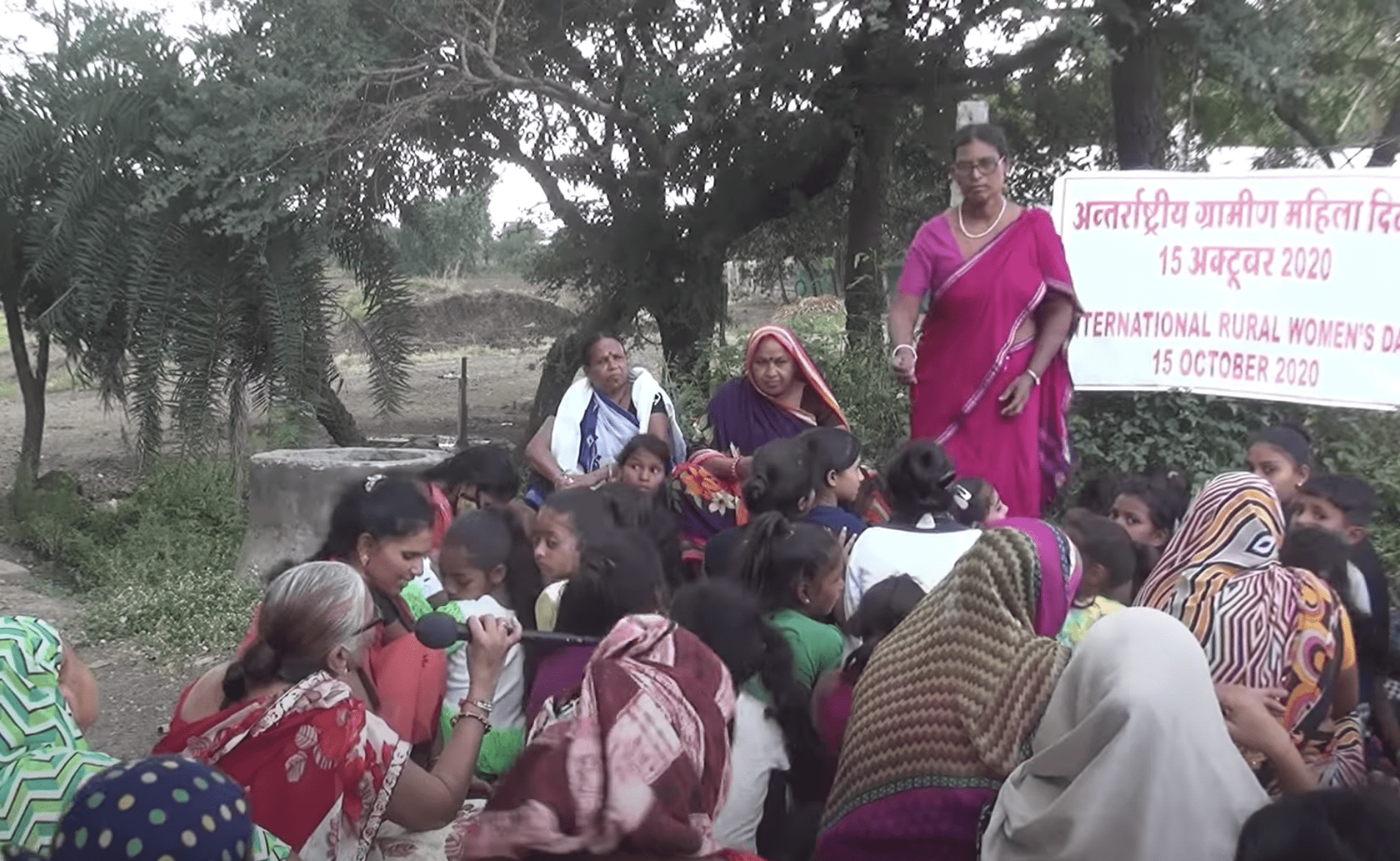 "It is indeed a great honor to be selected for this prize and will certainly go a long way in providing moral support to my work. Thank you very much. On the occasion of International Day of Rural Women, our organization Mahila Jagat Lihaaz Samiti organized meetings across the four districts of Indore, Dewas, Alirajpur, Dhar, and Khargone where we are active." See video https://www.youtube.com/watch?v=i8FOnywzvVc
Her work contributes to achieving UN Sustainable Development Goals-Agenda 2030

---
NEPAL – RAJBHANDARI Kanti (52 years old)
A NATURAL BORN LEADER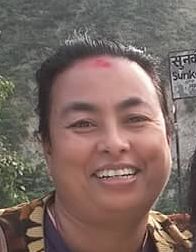 The Prizewinner is among outstanding candidates who have played a very effective leadership role at local, regional, and national levels in two key areas of development: women's empowerment (in one of the countries in the world where women were traditionally the most oppressed) and sound management of the forest environment. (25% of Nepal is covered with forests, but when Kanti was a child the figure was 50%, a huge decrease in a very short time due to poor forest management).
A teacher by profession, she got involved very early on with the local women's base as a volunteer in community forest user groups (CFUG). Very early on, her remarkable abilities as a
natural leader, her strength in the face of strong male opposition to her dynamic drive for gender equality, her broad and far-sighted vision caught the attention of Himalayan Grassroots Women's Natural Resources (HIMAWANTI Nepal), a non-governmental organization created and run by grassroots women. Kanti made the decision to forego marriage and start a family and has spent her life strategically amplifying women's voices to transform Nepalese society. At an early stage, she was ostracized and even threatened because of her fight for gender equality, but she bravely held her ground… and triumphed. She has the skills to work both at the local level with rural women leaders and local politicians and at the national level with provincial and national legislators. A natural-born leader.
Link to her Facebook profile: https://www.facebook.com/kanti.rajbhandari
Her work contributes to achieving UN Sustainable Development Goals-Agenda 2030

---
Selected messages of support regarding the WWSF Prize for women's creativity in rural life
Mary Robinson, UN High Commissioner for Human Rights
"… It is with great pleasure that I welcome this excellent initiative to award in Geneva the Prize for women's creativity in rural life and celebrate World Rural Women's Day. I would like to convey my best wishes and salute the Women's World Summit Foundation…"
Dialogue Nord-Sud, Cameroon
"…We appreciate the efforts of your organization to work for the implementation of women's rights. We send you total support."
ONG SAPHTA, Niger
"…We are happy to have discovered your organization and congratulate you on the empowerment you are to rural women."
Zambian Women in Agriculture, Zambia
"…a brilliant idea for you to create and initiate the Women's World Summit Foundation but also a very inspiring and motivating one. A million thanks on behalf of Zambian Women in Agriculture. The community based organization has not only achieved local or national recognition but a slot in the Women's World Summit Foundation, thus creating history."
Mouvement des Travailleurs Ruraux Sans Terre, Brazil
"We congratulate you for founding the Women's World Summit Foundation which is a boon to rural women and children…"
International Institute for Cooperation on Agriculture IICA, Costa Rica (a coalition of 34 member states)
"…We are very interested in co-sponsoring your Foundation's campaigns to promote WWSF and the annual award of the "Prize for women's creativity in rural life", and thus becoming an official sponsor of the campaign…"
Mercy and Grace Charitable Trust, India
"…we thank God for the wonderful service your foundation is doing for the welfare and development of women and children who live below the poverty line via your empowerment programs…"
Self-Employed Women's Association SEWA, India
"…we thank you for your encouragement and support and we are all so proud of WWSF efforts in bringing visibility to the struggle of poor rural women…"
Rural Women Welfare Organization, Pakistan
"…WWSF has provided a powerful platform and fruitful campaign for the development of rural women…"
Center for Conflict Resolution, Zambia
"… I have read your very impressive July 2001 Global Newsletter. I found the contents most interesting and inspiring. The sisterly spirit of your organisation is apparent and I am impressed by the fact that you focus on ordinary women who in small ways are making a tremendous impact on their own lives and those of members in their communities…"