Invitation to join the 75% Campaign & Registration Form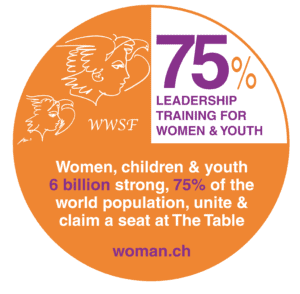 Invitation to join the Campaign 75% 
WWSF is inviting NGOs, associations, foundations, and other civil society organizations and change-makers from around the world, engaged in the work of advancing women's and/or children's rights at national and international levels, upholding the UN Conventions CEDAW & CRC, as well as the Beijing Platform 4 Action*, UN Commission Status of Women, Peace, and Security Resolution 1325, and the UN Sustainable Development Goals – Agenda 2030.
You can register below with a short declaration of interest to be affiliated with the 75% coalition.  We request an annual membership fee of US$ 20.00 per year. You will receive our Newsletters and social media alerts, sharing the evolution of the 75% campaign, including selected programs from registered coalition members, relevant updates of UN processes and developments, and information about planned annual 75% Geneva Forums, promoting guidelines on how to make your voices heard at the Table.
After receipt of your interest and membership fee, you will receive information about how you can frame your local and/or national community service work in the spirit of 75%, so that your organization is featured as an official representative of the WWSF 75% coalition that will participate in co-designing, together with men, your country's future for equality, human rights, peace, and sustainable development, leaving no one behind.
You are invited to send us a short summary of your present work program (max 1500 characters) with your organizational logo and website to include you in the WWSF coalition members' list 2022. The name of your organization will then be made visible, with your permission, on our website after receipt of your membership form, dated and signed by your Board President or CEO.
Payment Methods:
Bank relations: 75% Campaign membership fee: IBAN: CH8900788000050701413 (US$) account, BIC/Swift BCGECHGGXXX
Secure online payment with Paypal
75% Membership Registration Form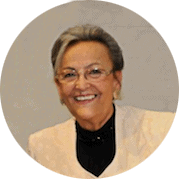 We thank you in advance for your interest and for sharing with your community the 75% A4GI campaign.
In solidarity and partnership, Elly Pradervand, WWSF President/CEO Women's World Summit Foundation wdpca@wwsf.ch – www.woman.ch, in collaboration with WWSF Board members, advisors, sponsors, and
advocacy partners. A special thanks to Cristina Levinski, consultant, holder of an MA in international
relations, drafting member of the WWSF 75% A4GI campaign.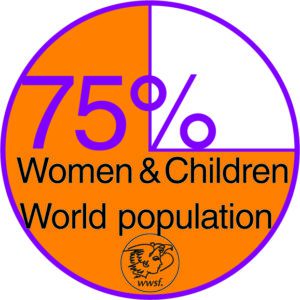 You can read about WWSF programs, campaigns & prize awards online.
Concept Note 75% Campaign PDF 6 Pages
LINKS TO EACH CONCEPT THEME:
Why 75%A4GI claim a seat at the table
"Women in leadership must be the norm"
Introduction to Key Ressources (CEDAW, CRC, BPA, Resolution 1325, SDG Agenda 2030)
Summary: Women's World Summit Foundation Campaigns