WWSF Rural Women Movements Award
Empowered Rural Women can end poverty and hunger. Rural women deserve to be heard. They are key to achieving the UN Sustainable Development Goals – Agenda 2030.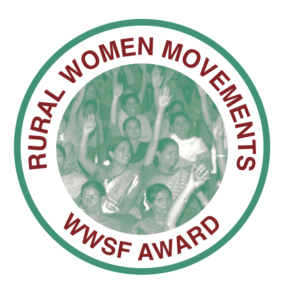 In 2017, the Women's World Summit Foundation (WWSF) and its annual campaign, "17 Days of Activism for the Empowerment of rural women leaders and their communities 1-17 October", launched an additional Empowerment Award for visibility and recognition of Rural Women's Movements that have a track record of leading rural women into self-reliance via training and capacity building to become empowered and creative change makers. The time has come to give credit to the millions of rural women who face numerous challenges and find solutions for their communities. The Rural Women's Movements Award seeks to:
Recognize and honor Rural Women's Movements and Networks for their contributions to improve the quality of life in rural communities
Increase membership for participatory action, meetings and collaboration, in rural communities
Conduct leadership training, preserving the environment, peace-building and support on many fronts
Promote and organize development projects that help achieve the UN Sustainable Development Goals -Agenda 2030, addressing extreme poverty, hunger, gender based violence and environmental challenges (SDGs #1,2,5,13).
Improve collaboration between Rural Women's Movements and Governments, UN Institutions, civil society organizations and the media to develop partnerships for transforming our world – leaving no one behind.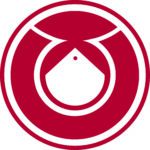 The first RURAL WOMEN MOVEMENTS Award in 2017 went to the Self-Employed Women's Association (SEWA India). The award money – US$ 10'000 – was transmitted at a prize ceremony at the Maison de la Paix in Geneva, Switzerland.  The Award Program and a description of the SEWA Movement are published in our Prize Brochure below.
Prize Brochure 2017, including 10 laureates and the SEWA association receiving the first WWSF "Rural Women Movements Award"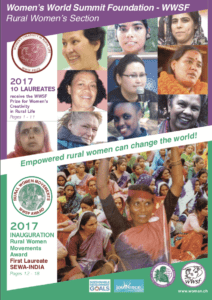 Prize Ceremony for SEWA (Self-Employed Women's Association, India)