Messages from Prizewinners
2020
Laureate from India, Subhadra Khaperde, "It is indeed a great honor to be selected for this prize and will certainly go a long way in providing moral support to my work. Thank you very much. On the occasion of International Day of Rural Women, our organization Mahila Jagat Lihaaz Samiti organized meetings across the four districts of Indore, Dewas, Alirajpur, Dhar, and Khargone where we are active."
Laureate from Nigeria, Dr. Mairo Ahmed Amshi, "Good day, I am one of the laureates award winners your foundation honoured from Nigeria. Happy to inform you that,  the Ministry of Agriculture and Nature  Resources will be celebrating the International  Day for Rural Women and will be presenting the CERTIFICATE of the prize award, and he is the Honourable Speaker of the Yobe state House of Assembly."
Laureate from Mexico, Alicia Marván, "It is with great joy I receive this news! I am humbled beyond words and filled with gratitude in receiving the award. Thank you for your support and encouragement during these difficult times. I feel blessed and empowered to continue making a positive impact at Guapamacátaro."
---
Selected from among many thank-you letters received from Prizewinners over the years
Laureate from Uganda, Petty Angida-Omagor « the Prize has brought me recognition in my district and in my country at large and the cash helped expand the growing of soya beans and training of single mothers in childcare. I pray that more rural women from Uganda will be awarded this kind of award. »
 Laureate from Nigeria, Ethek Nne Ekeke « the Prize is pushing me into more action to improve the lives of women and children. I will use the Prize money for the training of young girls & boys who have dropped out of school. »
Laureate from Armenia, Nune Sarukhanyan  « I wish to thank you once again, which obliges me to even serve better the development of Armenian villages and the improvement of the quality of life of Armenian rural women and the protection of their rights. » 
Laureate from the USA, Hermila Trevino Sauceda « Thank you very, very much for your notice and providing me the opportunity to be among the Laureates of the WWSF Prize for Women's Creativity in Rural Life 2016. I am so excited and feel so honored to be selected by you… » 
Laureate from Kenya, Eva Darare Gonche « I am humbled that the prize award committee has selected me for this precious award. My sincere gratitude goes to Mr. Hoko Funacha, my nominator, who knows the kind of work I was doing with women who are discriminated against and looked down upon by society. I am so, so proud to be the first Gabbra woman, the first pastoralist woman of Marsabit County in Kenya, to receive this award and who still struggles to bring gender equality and dignified life for the voiceless women and girls »
Laureate from Canada, Peggy Carswell brought small-scale tea growers and farmers in Assam, India, together and showed them how to grow tea and vegetables organically. She says « I want to let you know that being recognized by WWSF for my work came as an unexpected surprise – and of course, is very much appreciated. Assam has become a very important part of my life, and the friendships, working relationships, culture, and environment are inextricably connected to my heart and my soul… »
Laureate from Nigeria, Aku Anagbogu – AWKA « I'm happy to inform you that following the award I became the chairman of the Traditional village council for women and children to give women more strength and determination in the eradication of archaic practices in their community »
Laureate from Kenya, Bamako Initiative Women's Group « this prize has given our group a new sense of direction. More than ever, the group members feel challenged to contribute to the preservation of peace in Kenya »
Laureate from Cameroon, Mary Pekokeh « the award has made me be more recognized in the community and also enabled me to get a job as a social worker in the department of social services »
Laureate from Sierra-Leone, Lois Thompson «words are not enough to express the joy and surprise when I received your letter, the badge, and the prize money. May God bless you all and your families »
Laureate from Zambia, Cecilia Makota Ð Zambian Women in Agriculture  « As an impact of the prize I was nominated in 1999 to the highest policy-making body to the agriculture sector in my country, which formulates agriculture policies for the endorsement by the Ministry of Agriculture. I am now the focal point for rural women »
Laureate from India, Dr. Lata Kachchawah Ð Society to Uplift Rural Economy (SURE) « I'm deeply indebted to WWSF for awarding me with a prize for my work with rural women. The prize has encouraged me to a great extent to work vigorously with the downtrodden rural population of this backward desert area of western Rajasthan »
Laureate from Pakistan, Rural Women Welfare Organization « The WWSF prize money was not only an honor for the organization but an appreciation and recognition of our uneducated but qualified rural women activists who achieved the deserving status in society. We utilized the prize money for surgical operations of 10 poor and needy women who were suffering from the worst gynecological problems »
Laureate from the Philippines, Portia Navye-Rossi «  I was almost discouraged and was planning to end this 20-year-old farm project demonstration due to lack of funds but your support gave me renewed energy and inspiration »
Laureate from Jordan, Al Hadja « The award event was best celebrated with the special meeting held under the patronage of HRH Princess Basma Bint Talal, Chairperson of the Jordan Hashemite Fund for Human Development. By nominating me the Fund has upheld the cause of rural women in Jordan and in the world and brought to the attention the status of rural women and their achievements »
Laureate from Chile, Rosalia Jara « The prize was a great help for me and my family, as well as my community because part of the prize money was invested to implement my first aid kit with some medicine to benefit my community. The message that I would give to other laureates is that we have to double our efforts to serve and participate in community action »
Laureate from Nicaragua, Gladys Caceres « After receiving the prize, Gladys initiated an annual Central American Forum for women's creativity in rural life, convinced MAELA, the AgroEcological Movement of Latin America to focus on rural and indigenous women as one of their priorities… » 
Laureate from India, Narmada Bai « A voice against corruption – Narmada Bai will attribute the prize money to the Chilghat school and says with appreciation that "with Ekta Parishad (a mass-based peoples' movement for land rights), we discovered another world, we were really ignorant… From slaves destined to live in shantytowns of Delhi and Bombay, we have become proud human beings who fight for our rights… »
Laureate from Cameroon, Fomunbod Stella Anne « Vous ne pouvez pas imaginer à quel point le soutien psychologique et moral de ces reconnaissances affecte ma vie et mon travail. Une fois de plus, merci pour cet honneur décerné par la WWSF.  Je vous suis entièrement reconnaissante, d'autant plus que votre prix a maintenant un impact sur tous mes engagements »
Laureate from India, Bukkawar Rajesh Prathiba « Nous avons le plaisir de vous informer que le prix 2010 a été présenté par l'Honorable Consul Général de la Suisse à Bombay le 15 octobre. La chaine de TV indienne Doordarshan s'est entretenu  avec le Consul Général et la lauréate Prathiba lors d'un débat télévisé en direct le même jour » (message du nominateur de Bukkawar Rajesh Prathiba)
Laureate from Ghana, Joyce Vida Donkor « will use the prize money in collaboration with the Youth Club for Nature Conservation to acquire bee harvesting equipment and other material to exhibit on 15 October Ð International Day of Rural Women to boost the women's morale and encourage them to support future initiatives. » 
Laureate from Mali, Aïssata Guindo « Après avoir reçu le prix, elle est devenue membre de la Fédération des femmes rurales et a été élue trésorière de l'Union des femmes rurales Ouest africaines. Elles ont élaboré un plan d'action de trois ans. »
Laureate from Zimbabwe, Virginia Mupanduki « who became an Ashoka fellow because of her outstanding work in the field of education. She is building a broad national organization consisting of over 40'000 previously illiterate women aiming at eradicating illiteracy, teaching development skills, and creating a political voice for women. »
Laureate from India, M. Rani « Visited WWSF in Geneva and shared the beautiful handicraft work done by 1'300 rural women of the SHARE association of which she is president. M. Rani explained what a difference the prize made in her personal life and how grateful she is to WWSF to have given her this recognition. »
Laureate from India, Vikas Mahila Multipurpose Cooperative Society « we are very much encouraged by the recognition and appreciation of our struggle for a just society where women are given the deserved respect and opportunities »
Laureate from Vietnam, Do Thuy Dien « What a wonderful global project to recognize these dear workers for a better world right in their own communities » 
Laureate from Peru, Zoila Valdez Chaupi « Mientras la premiada continua trabajando para encontrar ayuda en beneficio de los damnificados ocasionado por el terremoto del 23 de junio, la FCMM le otorga el mejor premio de su vida en reconocimiento a sus desvelos semejantes. Premio que por si solo mejora su autoestima y la obliga a multiplicar sus fuerzas »
 Laureate from Italy, Martine Lintner  « my experience at the prize ceremony in Geneva was that I felt that the women at WWSF and the other laureates invited are committed to the well-being of all people and that the good is stronger than the dark in the world. WWSF is organizing World Rural Women's Day for us farm women to stop for a while and think and be happy about ourselves and realize how important we are for our society! »
Laureate from Germany, Christa Off « Personally it was my special concern to help improve income situation and sustainability of our farms and especially to keep small family farms aliveÉ We expect more than 1 million guests on Bavarian farms this year which is an enormous value increase for rural areas. My prize money will be for the benefit of a Bavarian Association, supporting rural families in need »
Laureate from France, Véronique Theve «  Je vais continuer à faire vivre et valoriser le rôle des femmes en milieu rural et aider les enfants à grandir dans le souci du respect du vivantÉ" Son prix a été médiatisé dans plusieurs journaux et revues. »
Laureates from Latvia, Rasma Freimane, and Zenta Skrastina « founded the Rural Women's Association and the former organized a training course for rural women on how to start a business. As a result of the prize, there is a call for nomination via television every year in Latvia, which has been helping to expand the rural women's movement along with a resulting improvement of the situation in rural Latvia. »
Laureate from Chile, Gladys Vasquez Poma, « sigue trabajando para los derechos al agua de las comunidades Aymaras en Perú, Bolivia, Chile y Argentina. En diciembre 2001 fue invitada por UNITAR a un taller en México sobre Autodeterminación y resolución de conflicto. »
---
Messages from 2019 Prizewinners
BURKINA FASO



"J'ai bien reçu le montant promis à l'occasion du prix, et je tiens, au nom de l'association et de toutes les femmes rurales du Burkina Faso, vous en remercier.
Cordialement,
Wendlasida Constance KABORE"
---
INDIA
"This is a real honor for me and 'Id like to thank you for appreciating my work with this award." – Triveni Acharya, co-founder and President of Rescue Foundation.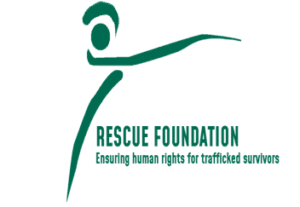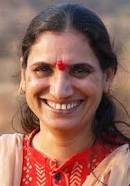 ---
INDIA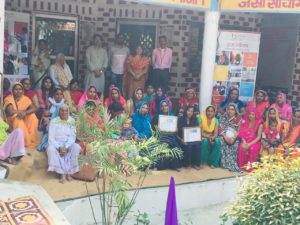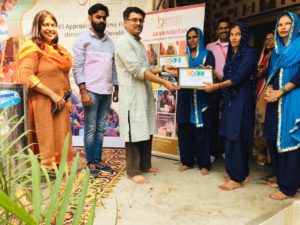 Ms Geeta and Ms Kanta share one prize. Both candidates belong to the Harijans, a community of outcasts of the Haryana Region. To read about them, visit the Prize for Women's Creativity in Rural Life page.
---
KENYA
2019 Laureate, Jebet Kiplagat from Kenya, receives the WWSF Prize for women's creativity in rural life and sent photos of her prize celebration.

---
TOGO
The Prizewinner from Togo, Ms. Adjoa AKAKPO holder of a Bachelor degree in Business Administration and a Masters degree in Communication, sent us the newspaper clipping announcing her receipt of the WWSF Prize for women's creativity in rural life – 2019, awarded by the Women's World Summit Foundation, Geneva, Switzerland. On 15 October 2019.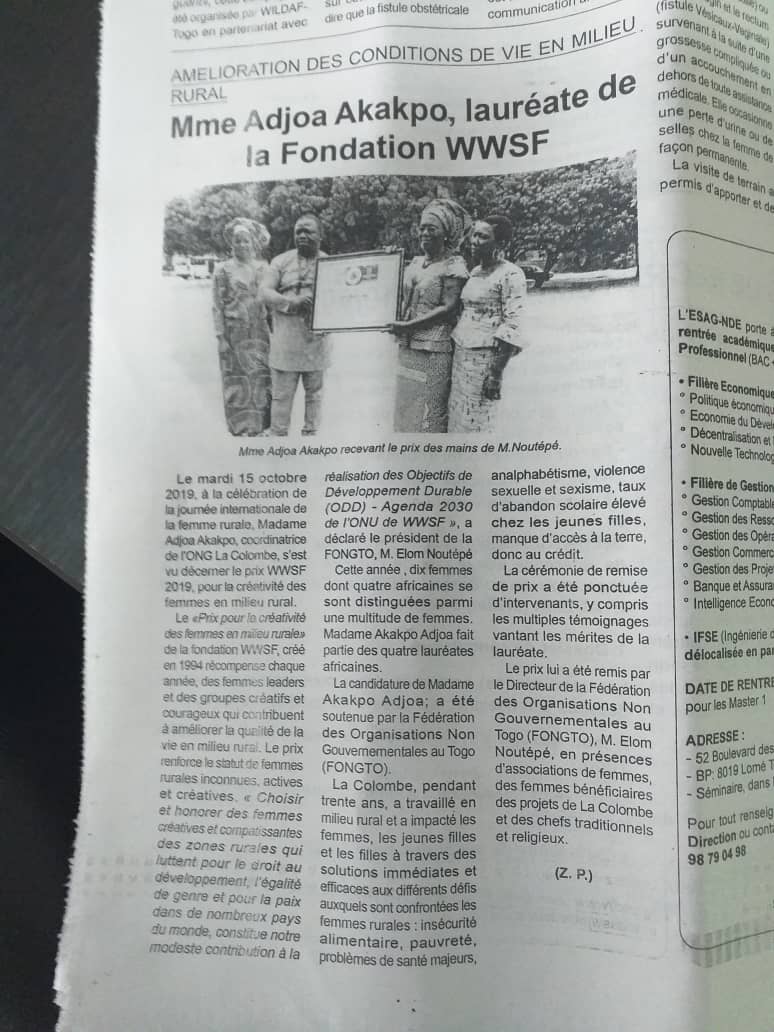 ---