WWSF Prize for Women's Creativity in Rural Life
Introduction
As you may know, the WWSF "Prize for Women's Creativity in Rural Life" (created in 1994 at the Beijing 4th World Conference on Women), annually awards creative and courageous rural women leaders and groups that help to advance and improve the quality of life in rural communities. To date, 452 prizes have been awarded in over 140 countries to selected candidates. In some cases, the WWSF prize enhances the status of unknown, active, creative rural women leaders and some of the prizewinners attain national recognition and sometimes move into positions of decision-making at the local/or national level.
The award (US$ 1000 per laureate) represents our solidarity contribution for efforts and obstacles to overcome and is not meant to be a project fund, although in many cases the prize money is re-invested in the laureates' programs. To achieve the Sustainable Development Goals (SDGs) by 2030, rural women are key in delivering results with courage and compassion. They need our solidarity support as they face many challenges in today's world.
WWSF expresses gratitude for all the nominations received in 2019 from which we selected the 10 finalists.
We also express our gratitude for the sponsors who make our empowerment programs financially possible;  and for the staff, consultants and university interns who serve in our secretariat.
PDF documents
2020 Nomination Form & Guidelines
2019 Prize Brochure
Messages from Prizewinners
List by country of the 452 Laureates from 1994-2019
Profile list of 452 Laureates by year
Prize jury members
---
Presentation of the 10 Laureates in 2019
BURKINA FASO - KABORE Wendlasida Constance (27 years old)

WHERE THE ANTS CARRY THE ELEPHANTS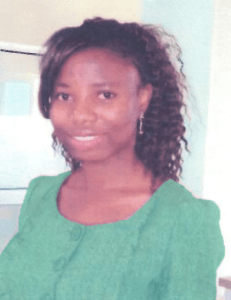 A school holiday she spent in her native village became a real eye-opener to Wendlasida Constance concerning the deplorable condition of rural women: with no independent sources of income, victims of their husbands likes and dislikes, living in appalling conditions of hygiene, etc. So, she created in 2014 the ALIA association (Association Libre Afrique – Free Africa Association). Its main aim is enabling rural women to enjoy greater autonomy, based on the slogan: "training is the key to autonomy." She later set up another project called FABI, which in French stands for beautiful, independent African women. It aims at promoting hygiene in rural areas which usually lack the most basic products in this area such as soap; enabling women to make a modest income selling such necessities and enabling them to be aware of their economic and social rights. O ALIA set up various trainings to enable rural women to make these basic products themselves - such as soap - and more theoretical training in areas like economic and social rights, how to create and run a small soap producing facility, and how to use local plants for health care. Such modest initiatives rarely
get into the limelight but their multiplication all round the world ultimately has a huge impact. For as a proverb from Wendlasida Constance's region states: "When the mouths of the ants get together, they can carry an elephant", be he called extreme poverty or serious underdevelopment.
Her work contributes to achieving UN Sustainable Development Goals-Agenda 2030

---
KENYA  -  NAIYAN Jebet Kiplagat (42 years old)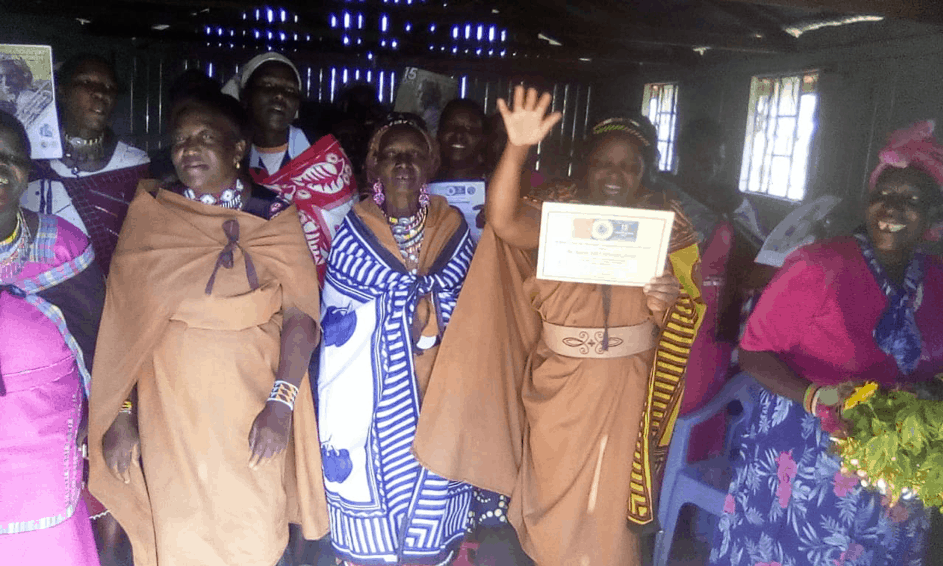 A MANY-TALENTED LEADER OF INNOVATIVE DEVELOPMENT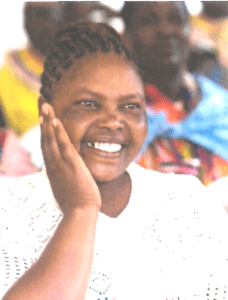 Jebet Kiplagat Naiyan has had a major impact in her country in a variety of key areas, including mobilizing women to combat the severe impact of climate change in the Mau forest of Kenya. As a member of the Olulunga women's group, she has worked to save marginalized communities both at the local and international level. Her efforts have had a multidimensional impact in the areas of human rights; indigenous rights education and especially environmental preservation, which, as in many other rural areas in the south, has become a major issue in her country. She has assisted indigenous people to develop the skills enabling them to be climate defenders, with e.g. the introduction of wood-saving jiko stoves or major reforestation projects, not to mention exploiting their regions' biodiversity and traditions. She has manifested the kind of strong leadership in areas where traditional chieftains are still major actors at the local level. The women's climate defender initiative of which she is also a member works towards shifting gender dynamics by strengthening grassroots women's access to resources, political participation and women's voices in policy decisions. An outstanding activity has been her involvement in the "Seed Sisters", an exchange between women from climatically different regions producing a variety of seeds for vegetables, beans, medicinal plants, flowers and trees that are more resistant to a dry environment. She has thus become a major source of inspiration for rural women to support each other.
Her work contributes to achieving UN Sustainable Development Goals-Agenda 2030

---
KENYA - LALPARASAROI Munteli (30 years old)
THE GODDESS OF THE LIONS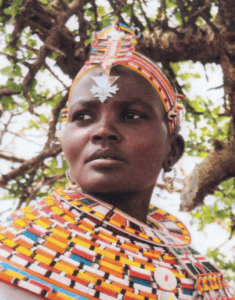 Over a period of 26 years, this prize has received many original nominations, but this one involving lion conservation is unquestionably one of the most original. Populations of large mammals are declining at an alarming rate, especially in Africa where the lion population alone has decreased by 43% in the last 20 years, reaching a low of 20'000, of which a meager 2000 in Kenya.
Alongside elephants and rhinos, lions could disappear in the next 20 years, due to habitat loss and, in the case of lions, conflict with humans, especially cattle herders.
Formerly lion conservation was purely a man's business - that is, until Munteli and her friend Mparasoroi stepped in with their Mama Simba project. This project is getting women connected to the cause of lion conservation in a real and practical way.
As a young teenager, Munteli became the 4th wife of an old man of the Samburu tribe who died soon after their marriage, thereby condemning her to widowhood for life according to Samburu traditions. But a few years later, Munteli teamed up with an older woman from her village, Mparasoroi.
They were on a clear mission, i.e. to get women involved in lion conservation on par with the Samburu warriors who had been hired by the highly original "Ewaso lions project" founded by Dr. Shivani Bhalla, an authentic community conservation project working with local people from the villages, an extreme rarity in the world of animal conservation. These illiterate women had to learn everything – to read and write, to sign bank documents, to manipulate portable telephones, and thus for the first-time taking control of their own lives. The women involved named their project Mama Simba. Munteli then learned to drive a car, the first traditional Samburu woman ever to do this. And she now sends WhatsApp messages in Samburu, Kiswahili and English!
Samburu women are also known for the extraordinary beauty and intricacy of their beadwork they proudly wear. Munteli opened up new avenues of income helping them set up a trade for beaded lions, i.e. small puppet-sized lions covered with beads artistically arranged.
There are now around 20 women working in lion conservation projects aiming at non- conflictual relations between cattle breeders and lions. Munteli herself has become a powerful role model for all women, has enabled families to increase their income and broken out of paralyzing traditional behavioral models. She is an amazing trailblazer who aptly illustrates the saying that "our only limits are our belief in the existence of limits."
Their work contributes to achieving UN Sustainable Development Goals-Agenda 2030

---
TOGO  -  AKAKPO Adjoa (61 years old)
A PIONEER WITH NUMEROUS TALENTS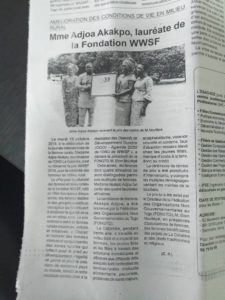 This candidate is a pioneer of the organization of women in her country where she founded in 1990 the "Women's association "La Colombe" (The Dove) to bring immediate effective solutions to the different challenges faced by rural women: food insecurity, poverty, major health issues, illiteracy, sexual violence and sexism, the high school drop-out rate among young girls, lack of access to land, hence to credit, i.e. financial dependency on the men. In the year 2000, Adjoa gives up the security of her teaching job to devote herself entirely to her work with women and young girls. A training center for women had been opened in 1997 in the town of Vo Koutime. Over 700 girls and young women victims of various forms of violence and sexual exploitation have been trained there in a variety of fields such as dressmaking, hairdressers, cooking, dying and others. Alongside these areas, all the students received additional training in basic notions of entrepreneurship, leadership, literacy, etc. Parallel to this training, the traditional village chieftains were informed and sensitized to the rights of women in terms of land ownership and inheritance laws.
On October 15, 2019, the International Day of Rural Women, a network of women agro-entrepreneurs will be launched by women 2030 so as to encourage rural women to adapt themselves to agro-ecology to face the challenges of climate change. At the same time, so as to find a solution to the problems of violence against women and girls in rural areas, a movement of the wives of village chieftains has been launched to face this eternal problem.
Her work contributes to achieving UN Sustainable Development Goals-Agenda 2030

---
UGANDA  -  NAMAGANDA Ruth (31 years old)
QUEEN OF COFFEE PRODUCERS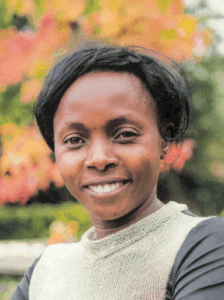 Ruth was born in W. Uganda, the only girl among 14 children of a farm family depending on cattle and banana production for its livelihood. After a very brief stint as a storekeeper, Ruth rented land, reclaiming idle fields and transforming them into productive ones. Very soon, she started a number of village savings and loan associations for women, and soon after she joined the Kabinge Coffee Farmers' Cooperative Society (KCFCS) in Bukomansimbi. Later, she was to set up the Babinge Youth Council (2017). Under Ruth's supervision, the youth council set up management services and coffee trading services it now offers to the cooperative. The management services include, amongst others, taking care of the farms of elderly members (as almost everywhere in the world, their proportion in society is increasing) and of widows and landowners. Ruth also carries out female leadership trainings - an absolutely indispensable contribution to African development, especially in areas where husbands usually very vigorously oppose any involvement of their wives outside of the household routine such as e.g. the above-mentioned cooperative activities.
Their work contributes to achieving UN Sustainable Development Goals-Agenda 2030

---
INDIA - ACHARYA Triveni (54 years old)
RESCUED FROM TORTURE TO EMPOWERMENT OF RURAL COMMUNITIES
Mrs. Acharya, former journalist with a reputed newspaper in Mumbai, took over as President of the Rescue Foundation in 2005, which combats Human Trafficking from the rural areas of India, Bangladesh, Nepal and any country from where girls and children are trafficked to India for commercial sexual exploitation.
She courageously rescues these girls from the red-light areas, massage parlors and even from private apartments and completely rehabilitates and repatriates them to reunite with their families in their native places.  Her work, practically on a grassroots level, not only rescues them from torture but also empowers them to become leading members of their community, thereby besides combating a major problem of India, empowers beneficiaries to prosper in rural areas. About 50% of the Indian population lives in rural areas and women's empowerment is very necessary.
Under her leadership, the Rescue Foundation has expanded the activities at Mumbai, Boisar, Pune and Delhi. Every year the Foundation rescues about 350 girls, rehabilitates, empowers and repatriates about 700 girls to rural families in India and abroad, to regain a normal life. Her protective and rehabilitation homes are situated in urban cities as these trafficked girls are trafficked from rural villages and sold by traffickers in cities.
So far Mrs. Acharya has rescued, rehabilitated and repatriated more than 18'000 girls. Her impact is recognized by the government of India. Mrs. Acharya's work provides empowerment to women who need to be empowered badly.
Visit www.youtube.com, click on video and type Rescue Foundation. You will be able to view several videos. Also, view wwww.rescuefoundation.net to get a detailed view of activities.
Her work contributes to achieving UN Sustainable Development Goals-Agenda 2030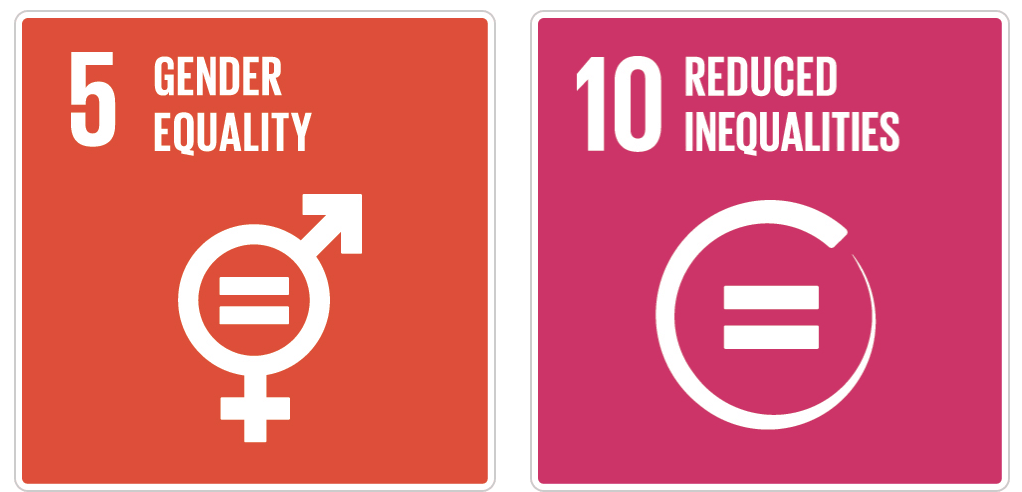 ---
INDIA - MS.GEETA (39) AND MS. KANTA (41) share one prize

TRAVELLING THROUGH HELL TO REACH HIGH WATER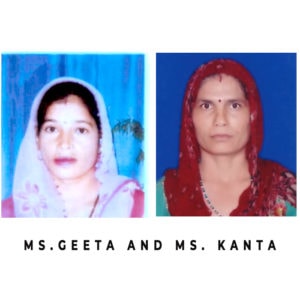 Both candidates belong to the Harijans, a community of outcasts of the Haryana region. Despite her being an excellent student, Geeta was pulled out of school to get married and then confined to the family enclosure. When her husband lost his job, they could barely manage a meal a day for their children. Kanta, like Geeta, was brilliant at school but was also forced to leave school and was married at 10 years old. At 15, she moved to her husband's family where she had to do everything – the cooking, house chores, taking care of the cattle, working in the fields … an endless succession of pressing tasks. But these two courageous women decided not to give in to such tough circumstances, which would have subdued many others. They joined a village self-help group and started training in various areas, and soon became real experts in promoting bio-sand filters. (A biosand filter is  a point-of-use water treatment adapted from traditional slow sand filters. These remove pathogens and suspended solids from water using biological and physical processes that take place in a sand column covered with a biofilm). The filters act against iron and arsenic contamination and biological impurities. Due to the very low cost of these filters they are extremely well suited to poor rural communities suffering from waterborne diseases. From being despised outcasts, Geeta and Kanta have become key figures in the social and economic promotion of their communities and are looked upon with respect by all.
Their work contributes to achieving UN Sustainable Development Goals-Agenda 2030
---
INDIA - KASHYAP Shraddha  (50 years old)
AN EPITOME OF COURAGE AND A TRUE CHANGE-MAKER

Shraddha belongs to a community called "Kurmi", which is a caste in the category "Other Backward Classes" (OBC) in India.  The major occupation of the Kurmi community is agriculture farming.
Shraddha was born into a lower middle-class family in Darrabhata Village in Bilaspur District (State Chhattisgarh). Her father continued the legacy of farming which he inherited from his forefathers. Despite the discrimination she faced at home, she struggled hard to get her education. It wasn't easy for her to convince her parents to let her study after the 8th grade. To pursue her studies further she had to move out, which she did to complete her bachelor's degree.
She had known since she was old enough to understand that her grandfather has already fixed her marriage long before she was born. Her grandfather promised one of his friends that if a girl were born, he would get her married in his friend's family. Shraddha who had struggled enough to get an identity wasn't willing to give in to societal pressure and marry a person who couldn't be an equal partner to her. At that time, she was quite inspired by a social worker called Shastri Ji in Bilaspur who motivated her not to let her struggle go in vain and to inspire other women and bring change in their lives. She took his advice into account and moved explored new horizons. So, she decided to play the role of a change maker in the lives of oppressed women.
She moved 2000 km away from her hometown to Madhya Pradesh State to work with Ekta Parishad, which is engaged in the fight for the rights of Dalits, Tribals and other deprived communities for land, water, and forest rights.  Ekta Parishad follows Gandhian ideology.
Shraddha, who had fought patriarchy all her life to build her own identity, knew the plight of women having the lowest status even in the most deprived and oppressed communities and thus was firm about creating an equal space for women who could then    be assertive enough to claim equal rights to land and property. Thus, thanks to her efforts many landless people received land rights and the daughters and daughters-in-law received equal property rights.
Shraddha played leadership roles in many land right campaigns advocating for policy changes. Few such nonviolent movements were:
"Janadesh 2007" (foot march from Gwalior to Delhi, 350 km with 25'000 landless people).
"Jan Satyagrah 2012", "Mahila Evam Bhoomi Samvad Yatra" in August to October 2018 for women's land and farmers rights from Trivandrum, Kerala to New Delhi.
Apart from the above-mentioned major campaigns, she has been engaged in the land rights campaigns at the local, district and state level. She has been active in promoting organic farming, creating seed banks, and awareness generation on climate changes. She also represented Ekta Parishad at the Copenhagen Summit for climate change in 2009. She raised the issues of climate change in her country and the urgency to address this issue.
Shraddha Kashyap has become a great inspiration to women. She has not only brought change in her own life but has influenced the lives of many other women too. She has proven that no hurdle can stop a woman if she is determined to achieve her dream.
Her work contributes to achieving UN Sustainable Development Goals-Agenda 2030
The two Cameroon Prizewinners were selected by CEFAP-Ladies Circle, the WWSF national prize program partner in Cameroon, co-sponsored by WWSF.

---
CAMEROON - MOKO Jeanne d'Arc (51 years old)
COMMITTED TO WOMEN'S RIGHTS AND GENDER EQUALITY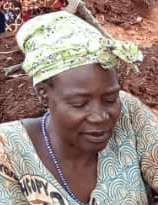 Mrs. MOKO Joan of Arc, a rural woman, widow and mother of 6 orphans has seen the whole burden of her family resting on her since 2010 that her husband has died, leaving her with 6 children. She works hard every day to support her orphans.
When her husband died, 80% of her land was expropriated. Since then, she has engaged with other rural women to defend their interests and fight gender inequalities in the distribution and management of resources, especially land in rural Cameroon. In 2012, she created the Widows' Club for rural development in her village. They organize information, awareness and denunciation campaigns and are supported by an association of women lawyers for the protection, defense and promotion of their rights. She is a rural woman who can be counted on, a rural woman who prepares the rural woman of tomorrow today and who gives herself the means to take control of her destiny and to mentor other vulnerable rural women in the communities. She is one of the linchpins of sustainable development, progress and the culture of peace in her community.
Her work contributes to achieving UN Sustainable Development Goals-Agenda 2030

---
CAMEROON - FETGO Bernadette (57 years old)
EMPOWERING RURAL WOMEN TO CLAIM THEIR RIGHT TO LAND
Mrs. FETGO Bernadette, a rural woman and mother of 9 children is a woman active in her village where she spends her time outside of her rural work, and her household chores, to gather the women of her community around the synergies for the reinforcement of their capacity, the protection and defense of their rights and interests, the diversification of their sources of income and, above all, they continue to seek information that can help them boost their production, transform their agricultural products and market them to feed the population and secure an income to care for their families. She has made her battlefield a real priority for action in her community: advocacy for rural women's access to land, girls' education and the eradication of early marriages of girls and the promotion of hard work of the rural woman who deserves to be recognized and supported. Ms. FETGO is the leader of several women's community groups with around 1,500 rural women working for peacebuilding in Anglophone regions in crisis in Cameroon.
Her work contributes to achieving UN Sustainable Development Goals-Agenda 2030 Target #1, #2, #5 & #10

---
Selected messages of support regarding the WWSF Prize for women's creativity in rural life
Mary Robinson, UN High Commissioner for Human Rights
"... It is with great pleasure that I welcome this excellent initiative to award in Geneva the Prize for women's creativity in rural life and celebrate World Rural Women's Day. I would like to convey my best wishes and salute the Women's World Summit Foundation..."
Dialogue Nord-Sud, Cameroon
"...We appreciate the efforts of your organization to work for the implementation of women's rights. We send you total support."
ONG SAPHTA, Niger
"...We are happy to have discovered your organization and congratulate you on the empowerment you are to rural women."
Zambian Women in Agriculture, Zambia
"...a brilliant idea for you to create and initiate the Women's World Summit Foundation but also a very inspiring and motivating one. A million thanks on behalf of Zambian Women in Agriculture. The community based organization has not only achieved local or national recognition but a slot in the Women's World Summit Foundation, thus creating history."
Mouvement des Travailleurs Ruraux Sans Terre, Brazil
"We congratulate you for founding the Women's World Summit Foundation which is a boon to rural women and children..."
International Institute for Cooperation on Agriculture IICA, Costa Rica (a coalition of 34 member states)
"...We are very interested in co-sponsoring your Foundation's campaigns to promote WWSF and the annual award of the "Prize for women's creativity in rural life", and thus becoming an official sponsor of the campaign..."
Mercy and Grace Charitable Trust, India
"...we thank God for the wonderful service your foundation is doing for the welfare and development of women and children who live below the poverty line via your empowerment programs..."
Self-Employed Women's Association SEWA, India
"...we thank you for your encouragement and support and we are all so proud of WWSF efforts in bringing visibility to the struggle of poor rural women..."
Rural Women Welfare Organization, Pakistan
"...WWSF has provided a powerful platform and fruitful campaign for the development of rural women..."
Center for Conflict Resolution, Zambia
"... I have read your very impressive July 2001 Global Newsletter. I found the contents most interesting and inspiring. The sisterly spirit of your organisation is apparent and I am impressed by the fact that you focus on ordinary women who in small ways are making a tremendous impact on their own lives and those of members in their communities..."