Concept Note – Vision, Mission and Objective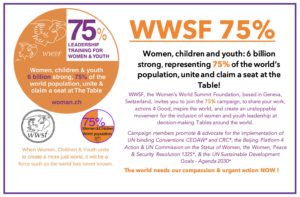 Concept Note
Women, children, and youth – 75% of the world's population –  is the largest constituency in the world with little, or no say in decision-making processes and in shaping the economic, social, and political environment we live in. It is imperative that our thoughts and visions, skills and lived experiences, and our deep aspiration for a more just and peaceful world are used to catalyze a system-wide transformation for sustainable development, equality, and peace with representation of 75% of the world population. We are expecting from world leaders to change course so that our children and grandchildren will not inherit the unstable and fragile world we live in today. Women who give birth to all humanity deserve a seat at the decision-making Table.
Vision:  Organizing for a more equitable world community by including 75% of the population
(6 billion) in co-designing, together with men, the space in which we can live without fear and pain.
Mission:  Breaking the notion of exclusion and discrimination, igniting a post-pandemic culture through the movement of 75% claiming a seat at the Table. The 75% campaign will seek consultation, collaboration and cooperation with women's and children's rights organizations to help impact our vision and co-create a world where right human relations and compassion become the norm.
Objective:  Building a global 75%  coalition for the achievement of the UN Sustainable Development Goals Agenda, showcasing engaged partnership organizations, claiming a seat at the Table.  WWSF plans to convene annual Geneva 75% Leadership Training Forums to impact system change and empower the needed women and youth leadership in realizing our common vision and mission.
 (Article 1 of the Convention of the Rights of the Child defines the child as "… every human being below the age of 18 years unless, under the law applicable to the child, majority is attained earlier".)
LINKS TO EACH CONCEPT THEME:
Why 75%A4GI claim a seat at the table
"Women in leadership must be the norm"
Invitation to join the 75% Campaign and Registration Form
Introduction to Key Ressources (CEDAW, CRC, BPA, Resolution 1325, SDG Agenda 2030)
Summary: Women's World Summit Foundation Campaigns