Training workshops – Creating Circles of Compassion
Inspire the creation of Circles of Compassion
A strategy to create a world fit for children  and youth.
Making the Sustainable Development Goal  Target # 16.2 a reality:
« End abuse, exploitation, trafficking and all forms of  violence and torture against children »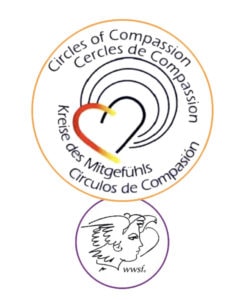 The Women's World Summit Foundation (WWSF) is pleased to share with civil society and the NGO community the idea of creating  community Circles of Compassion to change the world compassionately.
Violence against children  – Facts and figures (source: UN SDG #16.2)
Violence against children affects more than 1 billion children around the world and costs societies up to US$ 7 trillion a year
50% of the world's children experience violence every year
Every 5 minutes, somewhere in the world, a child is killed by violence
1 in 10 children is sexually abused before the age of 18
9 in 10 children live in countries where corporal punishment is not fully prohibited, leaving 732 million children without legal protection
1 in 3 internet users worldwide is a child and 800 million of them use social media. Any child can become a victim of online violence
Child online sexual abuse reports to NCMEC has grown from 1 million in 2014 to 45 million in 2018.
246 million children worldwide affected by school-related violence each year
1 in 3 students has been bullied by their peers at school in the last month, and at least 1 in 10 children have experienced cyberbullying
What is a Circle?
In her book "Women Circling the Earth", Beverly Engel offers a powerful guide to fostering community, healing and empowering.  A circle is not just a gathering of people who sit in a circle on the floor or a meeting where the chairs are arranged in a circle. Circle meetings provide simple, yet powerful tools to help teach people how to communicate more honestly and openly. What we wish to promote is an alternative to box-like hierarchical structures and confining systems, which dominate today. Among other things, circles can help us to
– listen without judgment
– foster cooperation and understanding
– help implement creative solutions to problems
– bridge differences
– help settle disputes and reach consensus
– encourage reconciliation and apology, etc.
We live in a world that cultivates separateness between people. When people join together in circles, they become keenly aware that such separateness does not really exist on a deeper level. Circles help alleviate the feeling that we stand alone against the harshness and violence of modern society. They remind us that we are all one.
Circle Guidelines
Circles provide a replenishing and sanctuary place and can be considered laboratories of grace where people can learn to relate in a way so conflicts and problems can be resolved. To participate in a circle, all you need is the desire, the willingness to attend the meetings, and agree to follow the guidelines. Each group determines their own rules but there are some universal circle guidelines that all agree to and help circle meetings to function more successfully. They include:
Invite your friends, family and partners; create a sacred space
Welcome by the Circle convener and begin with a period of silent reflection
One person speaks at a time – use a talking peace if necessary
Speak from the heart and from your own experience
Listen for wisdom with compassion and with discernment instead of judgment
Share leadership, resources, and common vision/mission/purpose
Invite silence and reflection when needed, in you and in the Circle
Take responsibility for your experience and for your impact on the Circle
Make decisions, whenever possible, by consensus and write them down
Encourage and welcome diverse points of view
Judge action, not the person
Agree to hold the tension, instead of rushing in to fix things
Keep the confidence of Circle discussions; respect the trust relationship about what is shared
Feel free to add other guidelines should Circle members find it useful to do so
Close with a drink and fixing the date for your next meeting
Circle meetings are excellent places for people to learn positive lessons about power. Circles rotate leadership so that each member gets a chance to experience the role of the leader. There is no hierarchy, only interactive, distributed leadership and accountability.
Create your own Circle of compassion
Invite your friends, colleagues and acquaintances and make sure to ask that people make a commitment to working within the circle to achieve the group objective. We encourage you to focus on the UN Sustainable Development Goals (SDGs) – Agenda 2030, and especially focus on SDG Target # 16.2 (see test on Page 1)   and making it your rallying point.
You may wish to add a spiritual dimension to your Circle
A meditation component in your circle connects members to each other at the soul level, deepens the group, reveals what really matters to the members, and brings spirit into the circle and through the circle into everyday life.  When opening the circle, use a go-around fashion to encourage each person to share briefly what is closest to their heart and what is most important in their lives at that particular moment. To close the circle, acknowledge any situation that was discussed and is in need of a remedy and have the circle give it its blessings. Close with a final go-around. It is important to provide ample time for silence or contemplation before closing. Each person is free to meditate in his/her own way. Circles are not intended to replace already established religious practices.
Tell us about your Circle(s)
We invite you to send a brief report on your Circle(s) of Compassion (name, place, theme and email) to WWSF E-mail wdpca@wwsf.ch. It is planned to monitor the spread of Circles of compassion around the world, which will be published on the website.
For how many months or years a circle meets depends on many factors, like the quality of energy in the circle, its objectives, number and stability of participants, etc.  Some circles have been known to last well beyond 10 or 15 years. Each circle manages itself autonomously. It is natural for members to start supporting each other and as the circle matures, various service activities in the community and/or supporting projects around the world are introduced by the circle members. The United Nations Sustainable Development Goals – Agenda 2030 are a set of 17 objectives the world's governments have pledged to realize by 2030. Circles of compassion can help meet these vital development goals – transforming our world.
Please feel free to copy and circulate the circle guidelines and mention the copyright  ©WWSFcompassionCircles). WWSF offers training workshops on how to create 'Circles of compassion' to advance human development and the end of violence.
Acknowledgements
WWSF wishes to acknowledge all the pioneers in circle work who have helped bring this idea to the world, such as the Chakra Circle, the Circle of Seven, The Women's International Dialogues, the Millionth Circle phenomena, Peer Spirit, Women Circling the Earth, Calling the Circle: The First and Future Culture, the Visualizing Alternative structures Video campaign, and many others.
Books on Circle formats and skills
The Millionth Circle, Dr. Jean Shinoda Bolen
Women Circling the Earth: A Guide Fostering Community, Healing and Empowerment, Beverly Engel
Calling the Circle: The First and Future Culture, Christina Baldwin
Wisdom Circles: A Guide to Self-Discovery and Community Building, Charles Garfield, Cindy Spring and Sedonia Cahill, and more as circle building is a transformational tool to change the world
 Use of logo (copyright ©WWSFcompassionCircles)
Once we have received your circle program registration form  (see below),  we will grant you the use of the Circle of compassion logo and include you in the annual WWSF Campaign Impact Report list.
Dates for 2020 workshops available in Workshops/Formation
---
WWSF will send a confirmation email upon receipt of your registration. We thank you in advance for your participation. Together we can achieve what no-one can do alone.